WS/FC – Project Hope
Project HOPE 2018 Graduation Dinner
Each year Winston-Salem/Forsyth County Schools (W-S/FCS) graduates approximately 3,700 seniors out of 17 high schools in Forsyth County. This year Project HOPE, Winston-Salem/Forsyth County Schools' homeless education program, had the honor of assisting 16 seniors during the 2017-1018 school year by removing barriers such as ensuring students had transportation to and from school, paying senior fees and eliminating any additional barriers that would prevent students experiencing homelessness from graduating. None of this could happen without the support of our community agencies, partnerships with businesses and churches, which unequivocally collaborated with Project HOPE in meeting the needs of students experiencing homelessness.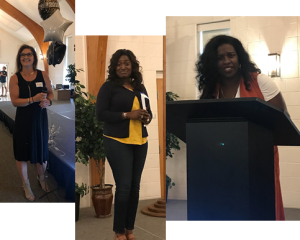 For the past five years, typically in May, Sedge Garden United Methodist Church in Winston-Salem has provided seniors in our program with an abundance of gifts, fellowship and a casual sit-down dinner, along with a mock graduation ceremony. This experience has allowed the seniors in our program to meet other students experiencing homelessness, share how their senior year has been, and fellowship with Project HOPE staff, along with the members of Sedge Garden United Methodist Church.
The "Senior Dinner" continues to be one the most important recognition events Project HOPE provides every school year. We continue to look forward to collaborating with Sedge Garden United Methodist Church in touching the hearts and lives of seniors experiencing homelessness.
Story and photos submitted by Tammi O'Quinn, Homeless Liaison for Winston-Salem Forsyth County Schools