Making A Difference
---
Making the Resources Work
Join NCHEP in congratulating Melody Marshall, Homeless Liaison for Durham Public Schools (DPS), for "Making the Resources Work" on behalf of children and youth experiencing homelessness in Durham County. As the homeless liaison, Melody oversees DPS's implementation of services for children and youth experiencing homelessness to ensure their educational rights and protections are met in accordance with the federal guidelines of the McKinney-Vento Homeless Assistance Act.
Melody and her staff work tirelessly to remove barriers children and youth experiencing homelessness face in pursuing their education. However, there are additional barriers that fall outside of the purview of the public-school system, such as housing, clothing, medical, etc., that have an impact, not only on these at-risk students' quality of life, but also on their ability to be successful in school.
To help fill the gap, Melody reached out to BB&T in Durham to discuss some of the obstacles that the 934 homeless students in Durham County might face during the school year. BB&T responded by providing Durham Public Schools Office of Homeless Education with a $50,000 grant to help provide additional supports to students experiencing homelessness. The donation allowed Durham's first and only resource center for Unaccompanied Homeless Youth to upgrade its bathroom and shower facilities. In addition, funds will be used to provide graduating seniors experiencing homelessness who are off to a two- or four-year college with laptops to assist with their future studies.
Mr. Earl W. Tye, BB&T Senior Vice President and Market Manager, and Ms. Wendy Wingrove, BB&T Vice President presented the check to Melody Marshall in February 22, 2018
Melody Marshall, the Homeless Liaison for Durham Public Schools, is a Licensed Professional Counselor and a Nationally Certified Counselor. A graduate of North Carolina Central University, Melody has worked in the mental health field for over 15 years.
---
A Happy Ending for one Unaccompanied Homeless Youth
Each year thousands of students in North Carolina are identified as experiencing homelessness as defined by the McKinney-Vento Homeless Assistance Act. School districts and homeless liaisons across the state work diligently to provide students in transition not only with the services required under the Act, but also with additional services which will support successful completion of their K-12 education.
Asheville City Schools is one of many school districts in North Carolina which works tirelessly to support identified McKinney-Vento students. Located in Buncombe County in Western North Carolina, with a student population of slightly over 4,400 students, the school district annually identifies between 176 and 192 students as McKinney-Vento eligible. Most of the students identified rely on doubling up with others in the community to meet their housing crisis. Services most frequently provided to identified students by Asheville City Schools include transportation to/from the student's school of origin, assistance with school supplies, and clothing needs for school participation; however, in many cases the assistance doesn't stop there. In addition to the McKinney-Vento homeless liaison, Asheville City Schools is fortunate to have support staff assisting identified students in a variety of ways, which includes academic tutoring, assistance with completing the FAFSA, and accompanying students on college tours.
One student success story from Asheville City Schools was highlighted recently in the November 30, 2017, edition of Glamour entitled, "Homelessness Was This Teenager's Biggest Secret, but Her Incredible Story Has a Happy Ending. "
---
Hoke County Schools' 2017 Walk for Homelessness and Hunger
D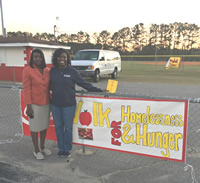 r. Peggy Owens, Executive Director of Student Support Services and the Homeless Liaison for the Hoke County School District presented the 7th Annual Walk for Homelessness and Hunger. On November 16, 2017, the Raz Autry Stadium at the high school became the stomping ground for some peculiar foot action. Participants including students, board members, county and city officials took to the track to donate their time to walk out hunger and homelessness. School social workers under Dr. Owens became very competitive in collecting donations for their identified schools. One social worker won 1st and 2nd place by collecting the most donations at her assigned schools. Dr. Owens and the staff agreed the event had increased participation from the previous year from the community, staff and students. They are already looking forward to next year. All donations are used to supply the local homeless facility which houses women and their children. The donations will also be used at the Help Store, a locally owned, ministry-based resource where many of the students and their families obtain assistance while experiencing homelessness.
---
"My Door without a House"
Volunteer/Donor Appreciation Banquet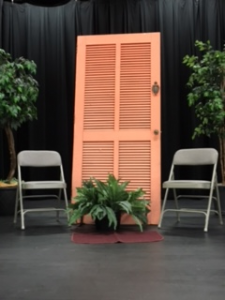 Iredell-Statesville Schools is nestled in Iredell County, North Carolina, with more than 20,000 students.  Iredell-Statesville Schools ranks among the 20 largest school districts in North Carolina, and serves students with an array of academic opportunities within its 36 schools. Tonya Reid, who is a school social worker, as well as the district's homeless liaison, works diligently to ensure that the district identifies and serves children and youth experiencing homelessness according to the legal mandate of the McKinney Vento Homeless Assistance Act.
In recognition of the 2016-17 school year volunteers and donors, Ms. Reid crafted and hosted an appreciation event which took place on June 26, 2017. The event was themed "My Door without a House," and served to acknowledge the volunteers and donors for their support of the Iredell-Statesville Schools Homeless Program.  During the 2016-17 school year, Ms. Reid's outreach resulted in donations from 71 donors totaling $11,447 to the school district. These funds were used to obtain needed personal hygiene items, food, supplies and materials as well as paying required fees for identified students. Another unique use of the funding was the support of "Dirty Laundry Day" which is an outreach effort created by Ms. Reid. Using donated funds Ms. Reid meets identified families at a designated coin laundry to allow them the opportunity to wash clothes at no cost to them.  This outreach has been extremely popular and provides a vital service to families.
The appreciation event not only provided acknowledgement of volunteers, donors and school system personnel for their support to the families being served by the program, but also heightened program awareness for all attendees, which included school system employees, community businesses, and local school board members. Key school district staff who work within the program spoke about their involvement in meeting educational, transportation and nutritional needs of the identified students, which gave the volunteers and donors a better understanding of all aspects of the district's McKinney-Vento program. The event culminated in presentations by 5 families who had experienced homelessness during the school year. These families invited the volunteers and donors through "their door without a house" by sharing their personal stories, and how the district's homeless education program had impacted their lives.