McKinney-Vento 101: Basic Requirements of the McKinney-Vento Act
July 14, 2022 @ 2:00 pm

-

3:00 pm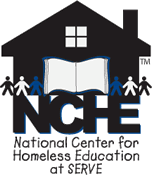 Description: In this interactive webinar, presenters from the National Center for Homeless Education (NCHE) will provide a high-level overview of the educational rights of children and youth experiencing homelessness under the McKinney-Vento Homeless Assistance Act. Topics will include:
Understanding the relationship between housing and school performance

Education for Homeless Children and Youth (EHCY) Program Basics

Eligibility for McKinney-Vento rights and services

School selection and immediate school enrollment

Transportation

Dispute Resolution
Attendees will have the opportunity to interact with presenters and fellow attendees through Q&A and discussion periods.
Handouts: You may download webinar handouts at https://nche.ed.gov/mckinney-vento-101-basic-requirements-of-the-mckinney-vento-act/.
Presenters: NCHE Staff
Please adjust for your time zone.