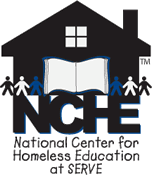 In this interactive webinar, presenters will provide an overview of school selection rights for children and youth experiencing homelessness under the McKinney-Vento Act, as amended by the Every Student Succeeds Act (ESSA). Presenters will review:
ESSA basics, including key implementation dates
The definition of "school of origin"
Key considerations for determining the best interest of the child or youth in terms of school selection
McKinney-Vento provisions related to the transportation of currently homeless students and formerly homeless students who have become permanently housed
McKinney-Vento dispute resolution provisions, including disputes about school enrollment and selection
Attendees will have the opportunity to interact with presenters and fellow attendees through polls and discussion periods.
Presenters: NCHE Staff
Please adjust for your time zone.